Reduce Greenhouse Gas (GHG) Emissions
We are committed to reducing our carbon footprint through the reduction of greenhouse gas emissions.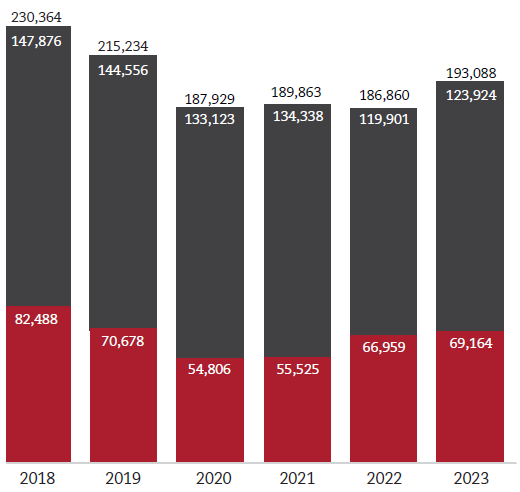 2018 Highlights:
Scope 1 GHG (direct) emissions constituted 36% (approximately 82,488 tons) of total GHG emissions in 2018.
To achieve our 2020 goal, the Company will continue to focus on improving our carbon footprint through Scope 1 (direct) and Scope 2 (indirect) GHG reductions. Key activities include our continued investment in LED lighting, skylights and renewable energy sources, and achieving improved energy efficiency and energy dependency in our manufacturing processes.
GHG data reflects the use of energy including electricity, natural gas, coal, fuel oil and LPG and represents data from all Lincoln Electric manufacturing facilities worldwide, including acquisitions after their first year with the organization. The data reflects use of the IEA Emission Factors 2018 Edition, the IPCC AR5 Edition and the GHG Protocol 2001 in its calculation values and was audited by a third party in 2018.
The data includes Scope 1 and 2 Emissions. Scope 1 emissions are produced from the burning of fossil fuels on Lincoln Electric property (e.g., heating buildings by burning oil or natural gas, organic gases); Scope 2 emissions are associated with electricity purchased by Lincoln Electric facilities from third parties. The Company does not have a logistics fleet and does not currently track Scope 3 emissions.
Beyond Energy
In 2011, Lincoln Electric installed the largest known urban wind tower in North America capable of producing 2.5 megawatts of electrical energy, or approximately 10% of the Cleveland campus' requirements. The project represents the Company's commitment to integrating renewable energy sources into its manufacturing processes. Even more importantly, it stands as a symbol of Lincoln Electric's commitment to the wind tower fabrication industry—showcasing the unique benefits our products and welding solutions offer to this prominent business segment.
Watch the Full Video
Success Stories
Next: Energy Intensity
Reduce Energy Intensity
Improving the energy efficiency of our operations helps reduce greenhouse gas (GHG) emissions. A key metric is energy intensity, which is the amount of energy consumed for every hour worked.
Reducing energy use is a key focus as energy represents the second largest input cost in our operation. To achieve our 2020 goal, we will continue implementing facility efficiency projects such as utilizing skylights and lighting that is more efficient; replacing inefficient equipment systems; modifying manufacturing processes to reduce energy usage; and are evaluating opportunities to source energy from renewable sources such as wind, geothermal and solar.
Energy data reflects electricity, natural gas, coal, fuel oil and LPG consumed across all Lincoln Electric manufacturing facilities, including acquisitions after their first year with the organization. Energy intensity is measured as gigajoules used per hour worked.
Success Stories
Next: Waste Reduction
Reduce Waste Through Increased Recycling and Re-Use
Our waste management program prioritizes a "reduce, re-use, and recycle" approach to divert waste from landfills and leverage waste as a resource.
We aspire to achieve zero waste and focus on initiatives that divert waste from landfills by working with regulators to increase recycling and the beneficial re-use of materials currently not accepted in the recycling stream. This includes expanding the use of our waste as a feedstock by third parties and increasing the capture and re-use of our chemicals in our manufacturing processes with new collection and chemical handling systems.
We measure the percent of all waste that we are able to re-use or recycle, the percent of permissible waste that can diverted from landfills, as well as the percent of hazardous waste.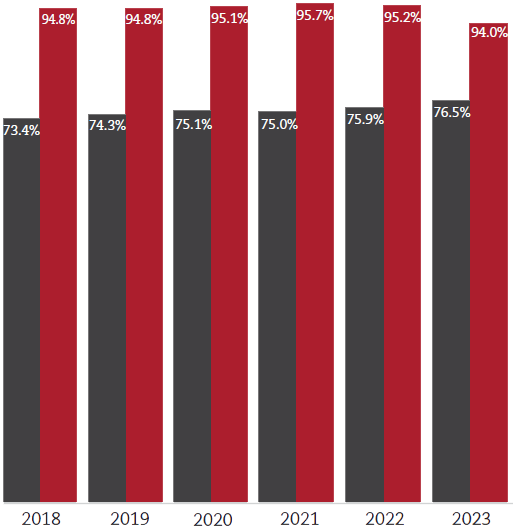 Hazardous Waste Material
In 2018, 8.1% of all waste materials, or 5,571 metric tons, was hazardous waste, as compared with 2,972 metric tons in 2017. The increase was primarily due to an episodic event.
The Company is actively working to eliminate hazardous waste by implementing alternative technologies.
Success Stories
Next: Natural Resources
Natural Resource Usage
Water Management
Water is an important natural resource and we acknowledge our responsibility to manage water use carefully. Water is predominately used in our consumable formulations and manufacturing processes.
We have focused our water management initiatives on reducing water usage and our reliance on freshwater and have established a 2025 absolute water usage goal. Since our 2011 baseline year, we have reduced our total water usage by 19% to 1,210,879 cubic meters annually. The 2018 data includes the acquired Air Liquide Welding facilities. We achieved this reduction by increasing the re-use and recycling rate of our water through improved wastewater treatment initiatives. We have also invested in manufacturing processes that have lower water requirements and achieved greater water efficiency. We currently have two "zero water discharge" facilities and several manufacturing facilities capture rainwater for re-use in manufacturing processes or for fire protection.
Success Stories
Air Emissions
We track emissions released from our facilities and are committed to reducing any hazardous air pollutants (HAPs) and volatile organic compounds (VOCs) that are released during our production processes through the use of alternate chemicals and materials.
We have invested in programs that have replaced worldwide use of solvent-based paints and metal preparation systems with solventless varnish, powder and water-based coatings. Currently, our operations do not emit significant quantities of SOx and NOx and we remain committed to reducing these levels whenever possible.
Next: Product Stewardship